Here's a list of KEY PRODUCTS that help people engage the Bredesen Protocol™ for Reversing COgnitive DEcline (ReCODE™). 
Books
At last: Dr. Bredesen's NEW book will be published on August 18, 2020.  "The End of Alzheimer's Program: The First Protocol to Enhance Cognition and Reverse Decline at Any Age " will be a practical self-help guide for implementing the program.  You can pre-order a copy now with Amazon's pre-order lowest price guarantee. 
Dr. Bredesen's previous 2017 book "The End of Alzheimer's" is widely available in book stores and libraries.

Recipe books can be found at on my recipes webpage.
Home Ketone Testing

 
Ketone testing provides an objective biomarker for achieving a mild ketogenic state.  Beta-hydroxybutyrate (BHB) measured in a blood droplet by the Precision Xtra/Keto Mojo and acetone measured in an exhaled breath by Ketonix are both breakdown products of the parent ketone acetoacetate—all three energy sources are generated when in ketosis.  Urine ketone strip testing for "peetones" are inaccurate in mild ketosis and better for preventing ketoacidosis in diabetics (a different goal).
Dr. Bredesen recommends the Precision Xtra. A Precision Xtra blood glucose and ketone meter kit includes a lancing device with 30 lancets and 10 ketone strips, costs about $65.   The price has dropped significantly on a pack of 30 Precision Xtra ketone test strips to about $30 or around $1/ea.  Use one ketone strip for each blood BHB ketone measurement.  The meter with extra ketone strips is enough to get you started, but consider adding glucose test strips, additional lancets, and calibration solutions…or buying a kit (pictured).
I personally use the Keto Mojo, another FDA-approved ketone meter option that may allow a smaller droplet of blood than the Precision Xtra.  The Keto Mojo starter kit with a lancing device, 10 lancets, and 10 ketone test strips costs about $60, sometimes $50 with coupon.  An additional 50 Keto Mojo ketone test strips also cost about $50, also around $1/ea.  The Keto Mojo now offers a USB link to their app for those interested in online tracking of their ketone readings and related health metrics.  I appreciated their how-to videos to help me get over initial anxiety about pricking my finger.
As a last resort for those totally averse to pricking their finger, acetone breath testing provides a less accurate, more variable evaluation of ketosis.  The Ketonix Acetone Breathalyzer is a one-time expense of around $140-240 (USB or bluetooth/mobile versions) without additional supply costs, except for the calibration canister.  The monetary investment into Ketonix ketone readings breaks even with ketone blood meter testing after about one-hundred measurements.  Breath acetone levels that register in the yellow and red range on the Ketonix Breathalyzer correlate with nutritional ketosis. A new alternative is the Biosense breath acetone meter at $299 with some clinical validation.  In studies, a 7 ppm acetone reading correlated with 0.5 mM ketone blood testing.
Continuous Glucose Monitoring
A Continuous Glucose Monitor (CGM) is a tiny wearable device that shows you how your blood glucose level responds to food, stress, and sleep in real time.  A CGM puts you on a faster track to blood glucose regulation than one-at-a-time finger pricks.  Nutrisense offers the clinically validated Freestyle Libre CGM device directly to the consumer.  Until recently, this technology was only available by prescription for diabetics, but now Nutrisense offers it to non-diabetic individuals.  With a minimum 3-month commitment ($750 total), Nutrisense mails you two tiny CGM devices each month, offers a phone app for tracking your glucose levels, and gives you access to chat with their nutritionists.  The Nutrisense price falls below $250/mo to continue beyond the first three months.
With a doctor's prescription, two-week-duration CGMs are available for around $120 each–a good option if you have diabetes and can get insurance coverage, or if your doctor is on-board with monitoring for a short duration.  At the three month mark, the prescription would cost just a touch more than the direct-to-consumer CGMs without free access to Nutrisense nutritionists.
Brain Training
Keep in mind that the brain games are designed to be challenging such that they will stimulate the growth of new brain cell connections.  Yes, persevering through a little discomfort or frustration with the game can be a good thing.  Be aware of negative self-talk about your percentile ranking.  The score serves as a marker so we can watch for decline over time and celebrate improvement with practice.
To give clinically-validated brain training computer games a try, you can sign up for the free version at Posit Science BrainHQ.  Over one hundred research papers show that exercising your brain with the BrainHQ exercises increases cognitive functioning and quality of life.  Pay $8-14/month to subscribe for full access and personalized BrainHQ activities…or receive full access with your paid ReVERSE™ subscription (more details here).
Luminosity is a popular alternative brain training app.
Sleep Optimization
A fingertip pulse oximeter, such as the $180  Viatom overnight oxygen monitor attached to a wrist worn device can record oxygen saturation levels while your sleeping.  If the device records significant drops in oxygen saturation below 92%, talk to your doctor.  (Note that decent oxygen saturation does not rule out disruptive apneas and hypopneas–you need a sleep study for that.)
Stress Management
Dr. Bredesen recommends Neural Agility by RevitaMind, "meditation on steroids"$97
Kritan Kriya meditation audio file and instructions on CD or MP3 from the Alzheimer's Research and Prevention Foundation, $20
Ketoflex™-Aligned Food Products
To ease your transition into ketosis, you may want to try a high-quality 95% C8 Medium Chain Triglycerides (MCTs) supplement.  A trial size 3.0 oz Bulletproof Brain Octane costs under $7 on Amazon.  Start with a half-teaspoon taken with food in case your gut doesn't agree with MCTs.  If MCTs help you, increase to up to a tablespoon up to three times per day.  My coachees can refer to my "Tips for Nutritional Ketosis" for understanding when MCTs are beneficial and when not.
Amphora Nueva is an excellent source for third-party-verified high polyphenolic extra-virgin olive oil [EVOO]. Request the ApoE4 discount to purchase premium large 750-ml EVOO at $18.00 ea plus a "small" amount for shipping from Northern California.  Experience the pleasant pepperiness, pungency, and healthfulness of varietals like their Spanish Hojiblanca, Chilean Coratina, and Tunisian Chetoui. FFA polyphenol ratings vary with each harvest, so ask for their recommendation.
exogenous ketones
VitalChoice  is a great option for buying sustainably harvested seafood tested to be low in hazardous contaminants, like heavy metals.  I enjoy their canned wild Alaskan sockeye salmon (with small soft edible bones and skin for extra nutrition, larger 7.5 oz cans, product #CWR706) and tinned wild Portuguese sardines in organic extra virgin olive oil (product #CPS012).  Both canned fish taste better than many competing products.  Vital Choice has other seafood entrees like 5 oz herbed wild salmon burgers (product #FSB501) and spiced wild blue shrimp burgers (product #FBS404) that make it more convenient to eat safe seafood.  VitalChoice seafood is delicious, nutritious, and a bit pricey…so look for their 10% and 15% off sales.
Toxin Reduction
The Bredesen Protocol ideally involves reducing the total toxic burden as much as feasible and drinking clean water to enhance kidney clearance of toxins. Common municipal water contaminants like chloramines, fluoride, and heavy metals aren't sufficiently removed by a Brita filter.  Two excellent water filtration options are the Aqua Tru countertop reverse osmosis filter recommended by Dr. Mark Hyman and the Pure Effects four-stage under-counter water filtration unit recommended by Dr. Tina Beaudoin.
Supplements and Special Products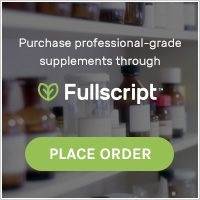 My Fullscript supplement dispensary includes numerous supplements and other products (i.e. Dentalcidin toothpaste for gingivitis) that Dr. Bredesen has identified as supporting brain health.  Selection of supplements depends on each individual's ReCODE Report™ and doctor's evaluation.  For prevention, a wise approach is to take the minimum effective dose of a just the supplements personalized to match your individual needs, while being wary of financial incentives to push more than that. Please do not take any of the supplements in my dispensary without first consulting your doctor. If you are an individual already working personally with me, apply for a 30% discount using the form at the bottom of my Supplements page.
LifeSeasons offers ReCODE Protocol supplements–blends used by patients who are advised to take numerous supplements.   The only discount available directly from LifeSeasons.com is a 10% subscribe and save.  Your participating practitioner may offer the recommended 15% discount.  (I have chosen not to be a LifeSeasons retail partner.)
Immersive Bredesen Protocol Facility
Marama is a unique residential care facility in San Diego, CA with the goal of treating cognitive decline and returning residents to independent living.  Participants experience a full, personalized Bredesen Protocol™ including medical care by Bredesen-trained providers
Disclaimer: Jen Felix of Nurture Brain Health participates in the Amazon Services Associates Program—an affiliate advertising program designed to provide a means for sites to earn fees by linking to amazon.com.